Our Philosophy
To be the most reliable food company in Thailand. Contribute to the happiness of Thai society.
Corporate Message
Eat Well, Live Well.
Mission
Contribute to the world's food and wellness, and to better lives for the future.
Vision
Contribute to greater wellness for people worldwide, unlocking the power of amino acids to resolve the food and health issues associated with dietary habits and aging
By 2030
- Help extend the healthy life expactancy of 1 billion people
- Reduce our environmental impact by 50%, while improving business performance
Ajinomoto Group Policies (AGP)
We create better lives globally by contributing to significant advances in Food and Health and by working for Life

Create New Value "Create"
Create value with new ideas and continuous innovation based on unique technologies and science.

Pioneer Spirit "Pioneer"
Continue to constantly take on the challenge of creating new businesses and markets.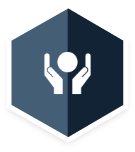 Social Contribution "Contribute"
Accommodate social requirements with humility and honesty, with the objective of maximizing value for society through business activities.

Value People "Respect"
Respect the humanity of all the people involved in the Ajinomoto Group's businesses, and be an organization in which they can grow and display their abilities to the fullest extent.
Ajinomoto Group Policies (AGP)
1
Initiatives to Improve Nutrition
2
Provision of Safe, High-Quality Products and Services
3
Contribution to the Global Environment and Sustainability
4
Fair and Transparent Transactions
5
Approach to Human Rights
6
Human Resources Training and Ensuring Safety
7
Working with Local Communities
8
Responsibilities to stakeholders
9
Protection and Management of Corporate Assets and Information
10
Clear Separation of Business and Personal Affairs
11
Establishment and Implementation of Good Governance