Ajinomoto Group Global Brand Logo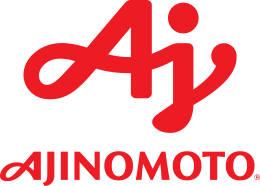 "AJINOMOTO" MEANS THAT "ESSENCE OF TASTE" = "ESSENCE OF UMAMI"

The Infinity "A" , besides incorporating the will to pursue to ∞ (infinity) , carry to extreme and spread the "Taste (Aji)", also has the will to evolve to infinity with latest technology and intention to develop the "Amino acid", and the will to promote earth sustainability to infinity.

The flowing line from "A" to "j" shows a person's appearance. The "A" shows people gathering for the "Aji" and "Amino acid" with the meaning of "Join" and also "Joy" meaning through enjoying cooking, meals and comfortable life.

The line extending from the bottom of "j" to the right top represents the Ajinomoto Group aspiration to grow and develop for the future.