Ajinomoto Group's Quality Assurance
We pay full attention to the request of our customers, and provide products and services meeting with their satisfaction.

We actively provide appropriate information to our customers and continue to improve our trustworthiness.

We make no compromises with regard to safety, conducting surveys and research as thoroughly as possible, faithfully complying with applicable laws and regulations, and always delivering products and services of uniform quality.

We assure quality through the Ajinomoto System of Quality Assurance (ASQUA), based on the concepts outlined in the international ISO standard.

Under the leadership of our management, each one of our company's employees makes the greatest effort to provide safe and high-quality products and services through work at all levels, from research and development to production, distribution, sales and services.
Ajinomoto System of Quality Assurance (ASQUA)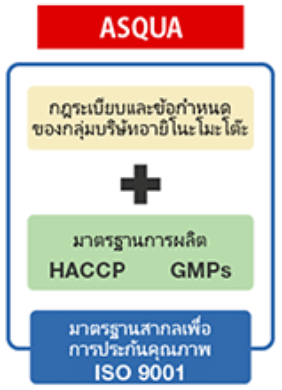 Established in 1997, ASQUA is the Ajinomoto Group's own quality assurance system. It is based on ISO 9001, the international quality management system standard, as well as manufacturing management standards like Hazard Analysis and Critical Control Points (HACCP), Food safety, Food defense and a food hygiene management standard, and good manufacturing practices (GMPs).
Obtaining third-party certification
Not only Ajinomoto Group's own quality assurance system which focus on every steps of the supply chain but Ajinomoto Group is also working to obtain third-party certifications in ISO 9001, HACCP, GMP, etc..

GHP & HACCP
ISO 9001:2015
ISO 14001:2015
ISO 45001:2018
GHP & HACCP
ISO 9001:2015
ISO 14001:2015
ISO 45001:2018
FSSC 22000 Version 5.1
SMETA
GHP & HACCP
ISO 9001
ISO 14001
ISO 45001
BRCGS Issued 8
GHP & HACCP
ISO 9001:2015
ISO 14001:2015
ISO 45001:2018
GHP & HACCP
ISO 9001:2015
ISO 14001:2015
ISO 45001:2018
GHP & HACCP
ISO 9001:2015
ISO 14001:2015
ISO 45001:2018
Quality assessment and quality assurance
of each step in supply chain
The Ajinomoto Group, based on the Ajinomoto System of Quality Assurance (ASQUA), commits to strict quality assurance at all stages from the development to the sale and supply high quality of product and service which match to customer expectation. The detail of each step of supply chain is shown as follows;
1

Planning and development

Ajinomoto Co., (Thailand) Ltd. applies our own techniques to develop products tailored to the needs of customer. In addition, we are also working on the development of packing materials to create packaging that is easier for customers to use and environmentally friendly. All steps of development are strictly assesses in term of legality, safety of products, etc.

2

Raw Material Procurement

Ajinomoto Co., (Thailand) Ltd. strictly selects suppliers, manages and inspects each lot of raw materials. In addition, Residue standards have been set to ensure the safety of vegetables that used as raw materials and conduct regular evaluations and offers suggestions on improving levels of quality assurance.

3

Manufacturing

Ajinomoto Co., (Thailand) Ltd., in accordance with the Standard for HACCP, Standard for GMP, Standard for Food Defense and so on of the Ajinomoto System of Quality Assurance (ASQUA), conducts thorough quality control of work environment maintenance to provide safe and high-quality products. Every process of manufacturing from raw materials acceptance to mixing, cooking, blending, filling, packing and releasing product from factory is conducted based on the highest level of care concerning quality, sanitation and safety.

4

Logistics

Ajinomoto Co., (Thailand) Ltd., has carried out thorough quality control in storage and transportation of products in shipping from the manufacturing factory to our customers. Logistics quality entails aspects such as storage and shipment accuracy, product packaging quality and also includes driver manners.

5

Sales

Ajinomoto Co., (Thailand) Ltd., shares helpful information on products for general consumers not only on its packaging but also in supermarkets through activities of providing leaflets and demonstrating sales. Moreover, we also shares Product Information and FAQs on websites.

6

Customer Feedback

Ajinomoto Co., (Thailand) Ltd., utilize feedback received from customers to improve and develop products and services that appeal to our customers based on the Standard for Handling of "Voice of Customer" of the Ajinomoto System of Quality Assurance (ASQUA),